Boy, what a wild few weeks we've had here...

Time to backtrack a bit, if I can remember where I left off last.
Last week prior to Baytown was a mass of babies. Probably some of the most hectic, crazy days at work I've experienced yet. People are still talking about how ugly last Tuesday & Wednesday were. Some of our awesome night shift girls are picking up extra shifts this week which made for a much needed reprieve from the chaos. Monday wasnt bad at all. Tuesday turned into one of those days that, as a labor nurse, I always hope to avoid. I tell people that L&D is 98% happy and 2% devastating. The 2% is enough to drive some people out of L&D and into other units. I have never once cried over a patient until Tuesday. It was the most heartbreaking situation i've been apart of to date and I left that night feeling like I'd been beaten. Just rehashing the events in my head has made me uneasy.
And to lighten the mood: one of the strangest requests from a patient recently? A pork-chop-scented-candle. Nice.
The big run is a week from tomorrow, which is SCARY. I'm afraid I am not in any way ready for all 13.1 miles I'm scheduled to do. My sweet friend Jennipher insists that I will do wonderfully- she's been such an encouragement! I haven't done another long run since the 8 miles I did a few weeks ago, and next week I'll have lots of time (I took some vacation time since I thought mom would be in town), but I dont want to do a long run the same week as the race. Yikes. Yikes. Yikes. Yikes. 
So we've now had 2 interviews! I've told several people so far what I think of these interviews. An interview for a secular job (for example, nursing) consists of submitting a resume, a 20-30 minute interview with at maximum 2 people; one from HR, one manager-type. Then it's either a yes or no. Easy! There's a maximum of 20-30 minutes of awkward questions, silly answers and strange pauses. Interviews for a church position are as follows (with some variations between churches...) : submit a resume with a picture and testimony, filling out a questionnaire or short phone call interview, meet and interview with the search committee, meet and interview with the personnel committee, meet and interview with other staff members, preach if asked to, go before the church for a vote. Then it's either a yes or no. Be mindful that usually days or weeks pass between each step in the process as committee members reconvene and pray together about God's will for their church. So instead of 20-30 minutes of awkward questions, silly answers and strange pauses, we're looking at 2-3 months of awkward questions, silly answers and strange pauses. The first interview was over Valentine's day weekend in Baytown/Dayton/Mont Belvieu/Old River TX. Basically, this is what it looked like: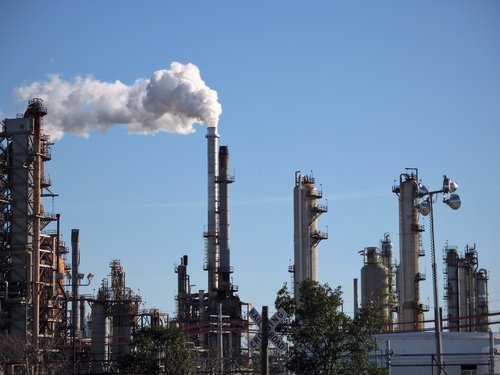 I'd never been so close to SO many HUGE oil refineries!! Exxon, Shell, etc.... they were all there. It wasnt the most beautiful or sweet-smelling countryside, but I understand it's a big big part of this community. The church is actually in Old River (hence Old River Baptist Church), which is only probably a couple of square miles. Mont Belvieu has 2 stoplights. This is definitely a small industrial community. It's about 30ish minutes from Houston and about an hour from the in laws (they're on the southwest side of Houston). We arrived Friday afternoon, met with one of the youth workers, met the pastor, met the search committee. Then Saturday, Jordan's parents drove out and took us around the city and out to Pearland. Sunday, we went to sunday school and church and then out to lunch with the other ministers. It was a nice weekend, however, I dont think we have gotten a peace either way regarding this church. 
Then yesterday/today, we were in Rockport, TX  at First Baptist Church Rockport and this is what it looked like:
This was the pier off our hotel! It was beautiful! No hard feelings towards the church in Old River, but the hotel in Rockport was pretty incredible. Lets compare: On I-10 vs. On the Beach; Smoking vs. Non Smoking; Waking up at 2am to sounds of drunken hotel guests vs. waking up in the morning to the sounds of the ocean; Single room vs. Suite. Anyone looking for a wonderful summer retreat, look into the Lighthouse Inn. 
And obviously, our decision is based on more than a fabulous night in a beautiful hotel. The trip to Rockport was much abbreviated in comparison to Baytown. We drove (yes,
drove
to Rockport... which is a small peninsula to the northeast of Corpus Christi) down Thursday, ate dinner with the search committee, which was really dinner and not a firing squad of questions. After dinner, we toured the church and had a round-table interview with the search committee. After that, a sweet lady drove us around the city and down to the bay. This morning, the pastor and his family took us out to breakfast and we got another tour of the city (in the daytime). Shortly thereafter, we headed back to Fort worth. We are feeling pretty positive about this experience and are hoping that the committee chooses to continue to the next step (which, for FBC Rockport, I'm not sure what that step is.). 
We're just praying that God makes it completely clear to us where we're supposed to be. It may not necessarily be what seems most comfortable. Maybe the oil refineries are where it's at. And maybe we're meant to be beach bums. And maybe we're meant to be someplace else entirely... like, say Garland? Jordan has an interview in Garland tomorrow afternoon. 
Unlike the past interviews, I will not be at the Garland interview. I will be at Catherine's baby shower! I'm so excited- and relieved for this shower to finally be here. It's been monopolizing my life recently, which is partly my fault. I have some control issues (surprise!). I'm afraid there will be some girly drama brewing tomorrow, which hopefully will be avoided... somehow. I just owe Catherine so much and I hope that she is wonderfully blessed, surrounded by friends who love her and little Carter. I think if everyone can keep in mind that we're trying to in a small way repay the queen of hostessing, that in the end, little petty differences arent a big deal. I'll post pictures of the big day soon!!! 
Can you believe I went to San Marcos and didnt buy a single thing? What a shame.